Carol Bowhill says that for renters, "a house has to be photogenic"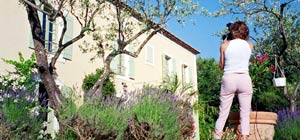 Hugh Atkins, based in a village near Beziers, looks after one-third of Bowhills' properties in southern France, as well as managing 100 other British-owned homes. According to Hugh, such is the competition that a house has to be "one of 200" to make it stand out from the crowd.
"There is much more supply than demand, so people have to accept the market level for renting, or have an exceptional home," he said.
Priced out of Provence and Brittany, holidaymakers are looking to buy in lesser-known areas, and nowhere is that more evident than in Languedoc-Roussillon and the Rhône Valley. The region has the sun, the TGV to Avignon — and a high frequency of low-cost flights. Ryanair flies to Nîmes, Carcassonne, Montpellier and Perpignan, while British Airways operates to Montpellier and Toulouse.
In a village near Beziers, Freddy Rueda, an estate agent, began selling houses to the British in 1995. Last year, he sold 120 properties. One day, he showed four Irish holidaymakers around — all four bought a house.
On average, he shows six British couples around a day. "Most people now want an income from their house," he says. "It used to be all people aged between 40-60 looking to retire but while they are still in the majority, more and more are buying now and planning to retire later."
The average price is £100,000, double that of five years ago. But he says: "It was too low before and it will go higher in five years' time. There is less property to sell because there is more demand."
The population of Languedoc-Roussillon is growing by 1,000 a month, says Rueda, the highest growth rate in Europe. Most are cash buyers, who have worked out what they can afford before viewing.
But across the River Rhône in the Drôme department, John Varnham, another Bowhills customer, isn't so happy. The problem is with the holidaymakers staying in his stone built, ivy-clad home near the village of St-Lager-Bressac. It's not that the six adults and a baby are causing any trouble, just that John isn't used to people living in his house.
A squeal of laughter is heard from the pool and he winces. "I don't like it, to be honest: I feel almost violated when you let people into your home."
It is a difficult transition for some owners. But nearby, businessman James Bird, from Deal, Kent, got it absolutely right when he bought a rambling, 150-year-old, five-bedroom stone house with a pool and courtyard on the edge of the village of Marsanne, near Montelimar, 15 years ago.
He and his family keep the house for themselves for five weeks in August and September — but still manage to rent it out for 20 weeks of the year through Bowhills.
"It should be lived in, otherwise it would deteriorate," he said. "We make a surplus which goes towards upkeep and renovations — but people should not go into this to make money."
One couple renting out his house last week were mulling the whole thing over. Peter Coleman and Jean Ross, from Leamington Spa, Warwickshire, sat by the pool, looking across the foothills of the Alps, and wondered out loud if they have missed the property boat.
"We have been talking about buying for years but prices have gone up so much in the past five years," says Jean.
They've looked in Provence and Brittany and are now looking around the Rhône and Orange.
Says Peter: "It is quite a big decision because even in France you can't depend on the weather: it's why we have headed to southern France in the past two years.
"We may not buy on this trip, but the idea is still fermenting . . ."
Page 3: need to know
Page 4: ten tips for your home-buying holiday